Channel Combiner Monitor
The Channel Combiner Monitor is designed as replacement/successor for the Kathrein 791 111. The Control Units are fully backward compatible, but are equipped with two adjustable signal thresholds instead of only one. The number of measuring channels has been increased from six up to a total of fourteen per device. One of the seven Control Unit slots can be equipped with an Interface Unit, which connects the dry signal contacts of the remaining Control Unit slots with a socket at the front panel. Integration into a SNMP-based Monitoring System is achievable by using a SNMP GPIO device like the 2wcom NC06.
As it is possible to monitor voltages from 0 V to 10 V according to DIN IEC 60381-2 with slightly modified Control Units, the usage of this monitoring system is not limited to channel combiners.
Licensing Terms
The Channel Combiner Monitor is covered by the Solderpad Hardware License 0.51 which is based on the Apache License 2.0 and also allows licensed works to be treated as licensed under the Apache License 2.0. The Open Hardware License drafted by Andrew Katz is hosted on Solderpad and added here for reference: LICENSE
Attribution notices: NOTICE
In short: you can use the following files in consideration of the license for any purpose without having to ask for permission. But I would be happy to hear from you, if you have found them especially useful or if you have suggestions for improvement.
Change History
Latest Release
All project files in one archive (ZIP)
e7668f23ff6c76b7157c7e181513e2dc369ee6fec2e398643421f0556c35828e (SHA256)
Project Files
Base Unit

Control Unit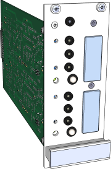 Interface Unit